How AI Could Elevate Your Shopify Store to the Next Level


The benefits of using Artificial Intelligence (AI) in a Shopify store can be immense. By leveraging AI, retailers can save time and energy by automating tedious and labor-intensive tasks like product categorization and content curation. AI can also help to uncover customer trends and provide insights into buying behavior. This can help retailers to better target their marketing efforts and create more personalized shopping experiences.

However, the consequences of using AI in a Shopify store must also be considered. AI technology should never replace human employees but instead should be used to enhance their performance. Additionally, AI can be expensive and require a significant upfront investment, which may not be feasible for smaller retailers. Finally, AI can't always account for unexpected market changes and human preferences, so additional caution is required when utilizing AI for decision-making.

Overall, the results of using AI in a Shopify store can be game-changing. AI can help streamline processes, improve customer satisfaction, and generate more insights into the products and services offered. By using AI responsibly and with caution, retailers can create better customer experiences and boost their bottom line.
Automated A/B Testing - Leveraging AI to Drive Conversions
Leveraging AI to drive conversions in a Shopify store has numerous benefits. Automated A/B testing allows store owners to quickly and cost-effectively experiment with different product offerings and page layouts to identify which elements maximize customer engagement and drive sales. Through AI, store owners can use real-time data analysis to identify patterns and quickly adjust their strategies to maximize the customer experience while driving customer conversions. This automation also helps reduce costs associated with manual A/B testing, allowing store owners to focus their resources on other aspects of their business.

However, some potential consequences of using AI for automated A/B testing exist. AI-driven decisions may not always be as accurate as manual testing and can lead to incorrect or inaccurate decisions if not adequately monitored. Additionally, the costs associated with integrating AI into the store's testing process can be significant and can not always guarantee the desired outcomes.

On the whole, automated A/B testing with AI can be an effective way for store owners to increase customer engagement and drive conversions. With the proper data analysis, store owners can quickly identify patterns and adjust their strategies to maximize sales and customer satisfaction. However, it is essential to remember that AI-driven decisions may not always be as accurate as manual testing, and the costs associated with integrating AI can be significant.
AI-Driven Personalization - Tailoring Content to Your Shopper's Tastes
AI-driven personalization is the latest trend in ecommerce and retail, with the ability to tailor content to an individual consumer's tastes. This technology has the potential to dramatically improve the customer shopping experience by providing more relevant product recommendations and content. By using AI to analyze consumer behavior, personalization algorithms can offer shoppers a tailored experience that is both more convenient and more engaging.

AI-driven personalization can lead to positive results if implemented responsibly. With Shopify, merchants can leverage the technology to create a relevant and engaging shopping experience for their customers, resulting in increased sales. However, this technology requires careful regulation, data security, and unbiased algorithms to ensure that consumers have a safe and fair experience.
AI-Optimized Pricing Strategies - Increasing Your Margins without Sacrificing Sales
AI-Optimized Pricing Strategies can be a powerful tool for businesses looking to maximize profits while minimizing costs. By utilizing AI-powered algorithms, companies can quickly and accurately change their pricing strategies to adjust to market conditions, optimize their sales margins, and find the perfect balance between sales and profits. Implementing AI-Optimized Pricing Strategies can give shops and businesses greater control over their pricing strategies - enabling them to better adjust pricing strategies to accommodate for fluctuating market forces, allowing shops to obtain their desired profit margins more easily without sacrificing sales.

Implementing AI-Optimized Pricing Strategies can also be beneficial in terms of efficiency and accuracy. By eliminating the manual process of adjusting prices, businesses can quickly adjust their prices in response to changing market conditions. Furthermore, by applying AI algorithms, businesses can accurately predict customer responses to changes in pricing strategies and optimize their plan to maximize their profits. Additionally, businesses can accurately identify the best methods to increase sales while keeping a steady profit margin. Implementing AI-Optimized Pricing Strategies can result in higher sales and greater profits while providing shops with greater control and accuracy over their pricing strategies.
GoWise helps you create professional and unique product descriptions with ease. No recurring payment is needed, and you can select from multiple AI-generated choices for each product to find the perfect fit for your store, no matter what you're selling. With the ease of use for merchants like dropshippers and beautiful product listings with a clear and readable format, GoWise brings accurate meta tags that will significantly improve local SEO with AI.
Transcy helps you localize your store by content translation and currency conversion, which provides your customers with a seamless native shopping experience to boost your sales in every market you target. Our powerful AI system can automatically translate (and translate on demand) your store very quickly. It is straightforward to manage the translation with unlimited editing and a real-time currency update at the exchange rate, making your price competitive and lively.
Translation Lab offers the tools and automation to translate your store into multiple languages and add multiple currencies hassle-free. You can translate your store into the maximum number of languages Shopify allows. We do not impose any limit on the number of languages. The app integrates seamlessly with your store, works with Shopify Markets, and is an easy and affordable solution for merchants looking to expand their business and maximize global sales.
Rise.ai is the go-to Gift Card & Store Credit platform for eCommerce brands. It provides you w/advanced solutions for Gift Card sales, Store Credit management, rewards, referrals, refunds, and loyalty programs. Use our features to improve retention rate and customer LTV. Instead of points, reward your shoppers w/Store Credit incentives in easily understood dollar amounts. You can also integrate w/Shopify POS and use Rise's omnichannel solution to reward customers whenever they shop.
LangShop is an app for language translation & currency conversion based on geolocation. With our AI-powered tool, you can easily translate & adapt your store's content (3-d party apps, dynamic content, Shopify Checkout, images) & sell in multiple currencies to align with cultural differences. The app easily integrates with your store, works with Shopify Markets, and is an affordable solution to reach a wider audience & provide a seamless shopping experience for customers in any location.
Use Vanga AI to automate one-click upsells, cart upsells, and Thank You page upsells before & after checkout. The mobile-first upsell design is focused on revenue impact to grow your order size and drive more profit from each sale. Skip the setup, cut the guesswork, and stop testing upsells. Vanga AI does it all for you with automatic AI-driven upsell A/B testing and 24/7 optimization. Automate your entire upsell strategy with one click based on data.
Are you looking to personalize your Shopify store for your customers? A quiz is a great way to do just that. With Octane AI, you can easily create quizzes allowing customers to answer questions and show them the best product(s) for their needs. This personalized experience increases sales, emails, and SMS subscribers, average order value, and strengthens your customers' relationship with your brand.
ReRank SEO Optimizer will help you generate organic leads & achieve stable growth through smart SEO. Our AI-powered app is designed to help you overcome common SEO challenges and drive real results. Our booster SEO features (SEO Meta Tags Optimizer, Image Optimizer & Speed Optimizer) will give your store the extra boost it needs to stand out on Google. We also include JSON-LD, broken links & duplicate content fixes. Reap the benefits of organic lead generation & stable growth: Install ReRank now!
EcoReturns not only helps you manage & automate returns/exchanges and reduces refunds. It offers a highly configurable return portal, returns policies, exchanges, returns reasons, email/text/WhatsApp notifications, and automation. Its AI-powered tools help you increase profitability by reducing returns and shipping label costs. Its automation helps you reduce TAT leading to a great post-purchase experience and reviews that promote repeat purchases. It also helps save CO2 emissions.
Leveraging the power of Machine Learning and NLP to make the Search discovery experience a consumer natural, efficient, and fast. Context-based search powered by AI/NLPUnderstands queries in mixed language & native language scriptRelevant queries & product suggestionsInbuilt Spell check, Auto-complete & Synonym modulesRule-based merchandising & redirectionsControl over products that appear in the searchProduct Ranking for better ROIMobile-friendly and customizable UIAnalytics & Insights
Stay Ai helps your store acquire new subscribers, increase customer LTV, and bust churn. Ramp up subscription revenue with a platform developed by a team with decades of combined experience in supercharging recurring revenue for all consumer brands. Our robust feature suite is anchored around our experience and retention engines, which let you treat subscriptions like a performance channel.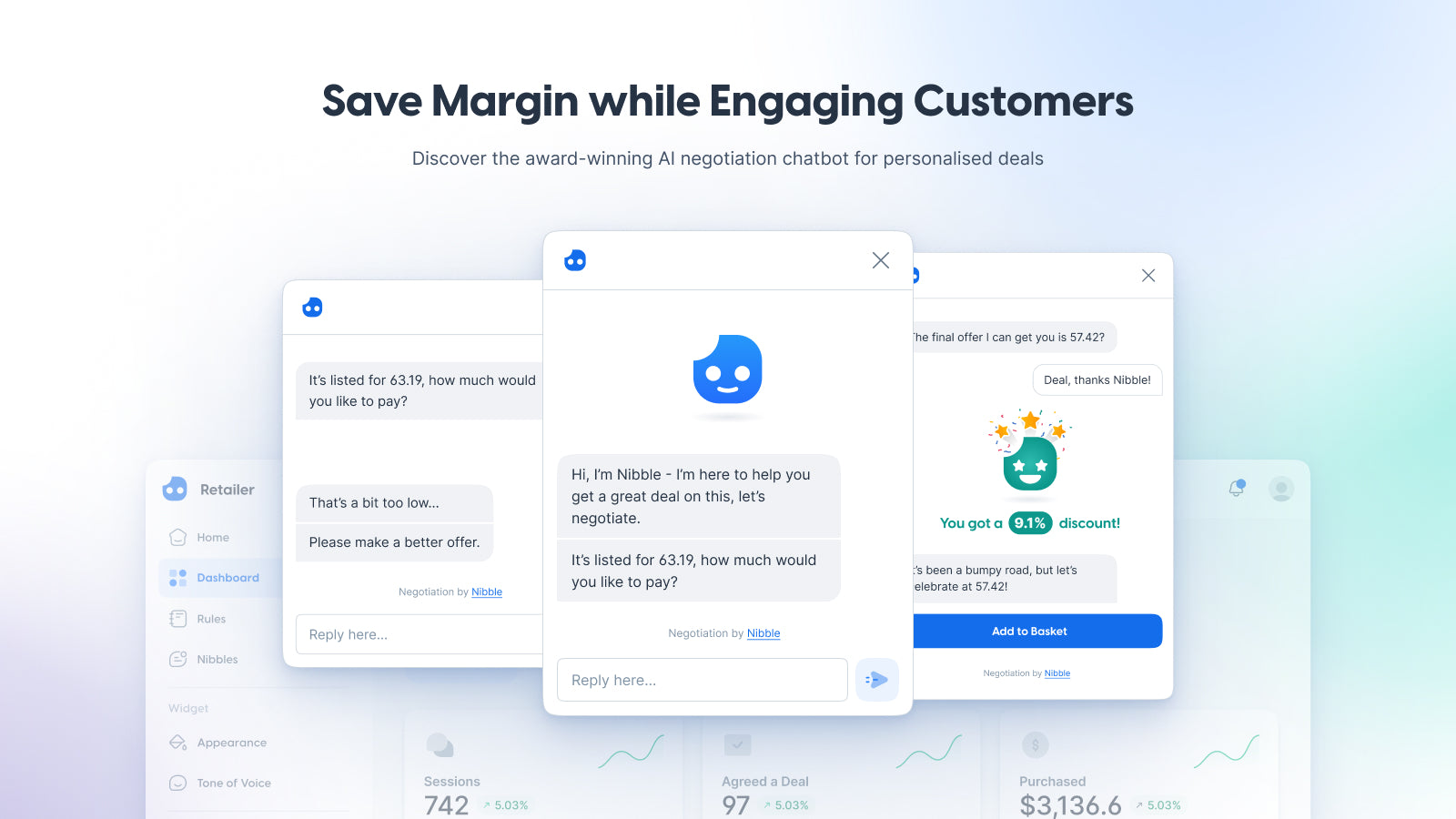 Nibble's automated and entertaining negotiation has been proven to more than double conversion rates, measurably improve customer engagement and increase AOVs, all while saving margin and clearing stock. Each month, Nibble chats with 25,000+ users in the US, Europe, and Asia and handles 500+ hours' worth of negotiations, winning baskets that would otherwise be abandoned. Nibble is the more flexible, engaging solution that does everything variable pricing and makes offer tools do – and more.
Blyp helps you make smarter, better, and faster business decisions by quickly alerting you to what's happening in every aspect of your business. By monitoring your customer, marketing, product, and store data 24/7 – Blyp reveals hidden opportunities and tells you what changes you need to make to drive more sales, increase profit and reduce costs. Stores using Blyp see an increase of 27% in sales by increasing LTV, reducing CAC, preventing coupon abuse, revenue leakage, and more.
Is your store growing a mailing list but not sending emails? Finding it challenging to design newsletters or decide on what to send? Promo helps you to send beautiful newsletters to your customers in just minutes. It automatically imports your Shopify products, latest articles, and most recent news and inserts them into a beautifully designed newsletter ready for you to send. Customers use this app to stay in front of minds and increase repeat sales.
Bucephalus helps you answer the questions: How much inventory should I buy? When should I buy that inventory? Where should I place it? How do these decisions impact my cash flow? Bucephalus is made by exAmazonians and Ivy League professors who are experts in the supply chain. We provide the most advanced AI-powered: Time series forecasts, Inventory optimization & alerts, Simulations, and more!
Make it easy for your customers to buy products when they are already purchasing relevant products. Upsell & Cross-Sell products on product pages, Ajax carts, and cart pages. Selling candles & want to offer a wick trimmer directly on the product page to complement the existing purchase? Selling sneakers & want to offer socks? Serve up the perfect complementary product at the right time in the right place when your customers are already making purchases with your store.
Use PickyStory to create revenue-boosting bundles & upsell offers displayed at key points in your customer's journey. Create personalized offers designed to convert more visitors into buyers. Either create your own product combinations or use PickyStory's AI-driven algorithm to sell automated product offers. PickyStory's complete conversion platform offers BOGO, free gifts, quantity breaks, bundle builders, tiered discounts, frequently bought together, popups, slide cart deals, and more.
Distil Business Analytics plugs directly into your store. It uses Distil AI to give you and your team deep insights into your business performance, customers, and marketing. Customer Data Analytics - automatically segmenting your Customers based on location, income, cohort, or product so you can instantly compare and know who is best. Marketing Data Analytics - show you how effective your marketing campaigns are, and what channels are bringing the best new Customers, and driving the best ROI.
Flash Search helps customers find your product easily & instantly with AI filters. Support: Advanced Product Search Autocomplete, Spell-check & Typo Autocorrection, Instant search suggestions with live product preview, Smart Search across product and content, Synonyms & Stopwords, Suggestion Dictionary, "Did you mean" feature to avoid giving zero results, Keyword-based redirects. You can also customize the look and feel of the search bar easily.