What is Print On Demand?
Print on demand (POD) is a business model that enables entrepreneurs to create and sell custom printed products without having to carry any inventory. It is a revolutionary way for businesses to reduce costs and expand their product offerings.
Print-on-demand is an excellent way for entrepreneurs who don't have the time or money to purchase, store and ship large volumes of inventory. Customers can place orders for custom-printed products, such as t-shirts, mugs, hats, and bags, which are printed and shipped directly to the customer.
The process of printing on demand is simple. The customer selects the product, uploads their design, and places the order. The design is then sent to the printer, which prints the product and ships it directly to the customer. This eliminates the need for a physical store and the associated overhead costs.
The advantages of print-on-demand are numerous. It eliminates the need to pre-purchase inventory and the associated risks of unsold inventory. It also allows businesses to offer a broader range of products and customize them for each customer. Additionally, it eliminates the need for warehousing and shipping costs.
For entrepreneurs, print-on-demand is a great way to expand their product offering without the risks and costs associated with traditional inventory purchasing and management. With print-on-demand, entrepreneurs can focus on marketing and selling their products rather than stocking and shipping them.
Why Sell Online?
Selling clothing on Shopify is a modern and efficient way to reach a wider audience than selling in a brick-and-mortar store. Shopify offers a wide range of features and tools that make it easier for sellers to get their products out to potential customers while still being able to customize their stores to best meet their needs.
One of the significant advantages of selling on Shopify is the ability to reach a much larger audience. Unlike a traditional brick-and-mortar store, Shopify stores can be seen by customers worldwide, allowing sellers to expand their reach and potentially increase their sales. Shopify also offers a range of tools that make it easier for sellers to list and manage their products and accept payments and work orders. This makes it much easier and more efficient for sellers to manage their stores and keep track of their sales.
In addition to the convenience of managing an online store, Shopify also provides a range of features that make it easier for customers to shop. Customers can easily browse a store's products, find what they're looking for, and use filters to narrow their search. Customers can also access detailed product information, such as descriptions, sizes, and reviews, making it easier for them to make an informed purchase decision. Furthermore, customers can also take advantage of features such as free shipping and returns, which can help to increase customer satisfaction and loyalty.
Overall, selling clothing on Shopify offers a variety of benefits that make it a better choice than selling in a brick-and-mortar store. With the ability to reach an international audience, the convenience of managing an online store, and the range of customer-friendly features, Shopify is an ideal platform for selling clothing.
Print On Demand on Shopify
Shopify print-on-demand apps are an excellent way for merchants to generate passive income. Print-on-demand apps allow merchants to create and sell custom-made products like t-shirts, mugs, stationery, and more. With print-on-demand apps, merchants do not need to keep any inventory or handle the shipping or fulfillment themselves. Instead, the app takes all of those aspects for the merchant.
It works because merchants design the product they want to sell and upload it to the app. The app then handles the rest, from printing the product to shipping it to the customer. The merchant is only responsible for promoting the development and managing customer service. This allows the merchant to focus on growing their business without managing the day-to-day operations.
The most attractive feature of print-on-demand apps is that they offer merchants a way to generate passive income. Once the product is designed and uploaded to the app, it can be sold repeatedly without additional work from the merchant. The merchant must promote the product and let the app handle the rest. Merchants can earn money without constantly creating new products or managing inventory.
Print-on-demand apps are also beneficial because they are relatively low-cost and easy to use. Most print-on-demand apps require a one-time setup fee and charge a percentage of the sale, and this means merchants can start selling products quickly and with minimal upfront costs.
Looking to start a printed or embroidered t-shirt business? Or sell wall art or blankets from the comfort of your home? Do it with Printful—we're a print-on-demand dropshipping supplier ready to support you and take care of the boring stuff (you know, like fulfillment). We'll print, package, and ship your products to your customers. It's time for you to take complete control of your ideas, time, and finances—start or expand your existing online business with Printful!
Customize a wide selection of products in seconds with Printify. From apparel to accessories, home decor, and more. Use our free Mockup Generator and create one-of-a-kind designs to sell. Access a global network of print providers who print, package, and ship your orders directly to the customers. Fast, simple, and risk-free. Create and sell custom print-on-demand products with Printify.
Tired of selling low-margin T-shirts and mugs?ShineOn offers premium print-on-demand products with HUGE margins, such as personalized jewelry, necklaces, bangles, watches, and more. Your orders ship FAST from the USA and the EU. Plus, get world-class training and support on how to use our app and how to SELL! Huge margins, premium quality, competitive prices, custom products, fast shipping, high-quality training, and viral potential. What more could you ask for?
Grab your share of the $87 billion beauty industry with Jubilee. Starting and scaling a private-label cosmetics and beauty brand has never been more accessible. Discover high-quality private-label makeup and beauty products. Upload your logo and write your brand name. Find products to sell. Customize and push selected listings to your store with one click. Find a wide selection of the highest quality beauty and cosmetics products with a 2-day processing time that ship from the USA.
This app is built by a team of apparel experts to help you design and sell premium apparel products to make more sales & earn more profit. The app automates all aspects of product creation, ordering, and fulfillment to save you valuable time. Only pay when you make a sale to conserve capital and simplify planning. Orders are fulfilled from both coasts, with 2 days average shipping, making it a perfect app for North American stores.
Install SPOD, create your custom product line in minutes and make more money with print-on-demand business on your Shopify shop. Upload your designs or create your own with the FREE graphic library and start selling, printing, and dropshipping on Shopify. Create and customize over 200+ print-on-demand merch items. With 20-plus years of high-quality print-on-demand experience, SPOD will print and ship your merch in 48 hours or less with a dedication to sustainability.
Self-manufacturer continuously provides 400+ custom products & 5-7 days of global trackable drop shipping services! Always aim for better print-on-demand services, more custom products, and easier integration to start your own custom brands with creative designs! Real-time mockup generation & product sync for faster setup and promotion. Automatic order synchronization for more accessible sales and management. You create, we fulfill, and always be passionate about print on demand business&markets!
Start your makeup line in less than 30 minutes! We have everything you need to launch your personalized, vegan, private-label cosmetics brand quickly. We are the only platform offering beauty, and cosmetics customized on demand and drop shipped. Choose from hundreds of products, including lipstick, skincare, mascara, lipgloss, men's products, blush, eyeshadow, eyelashes, makeup accessories, subscription boxes and more! Start a skincare line or cosmetics line with Blanka today!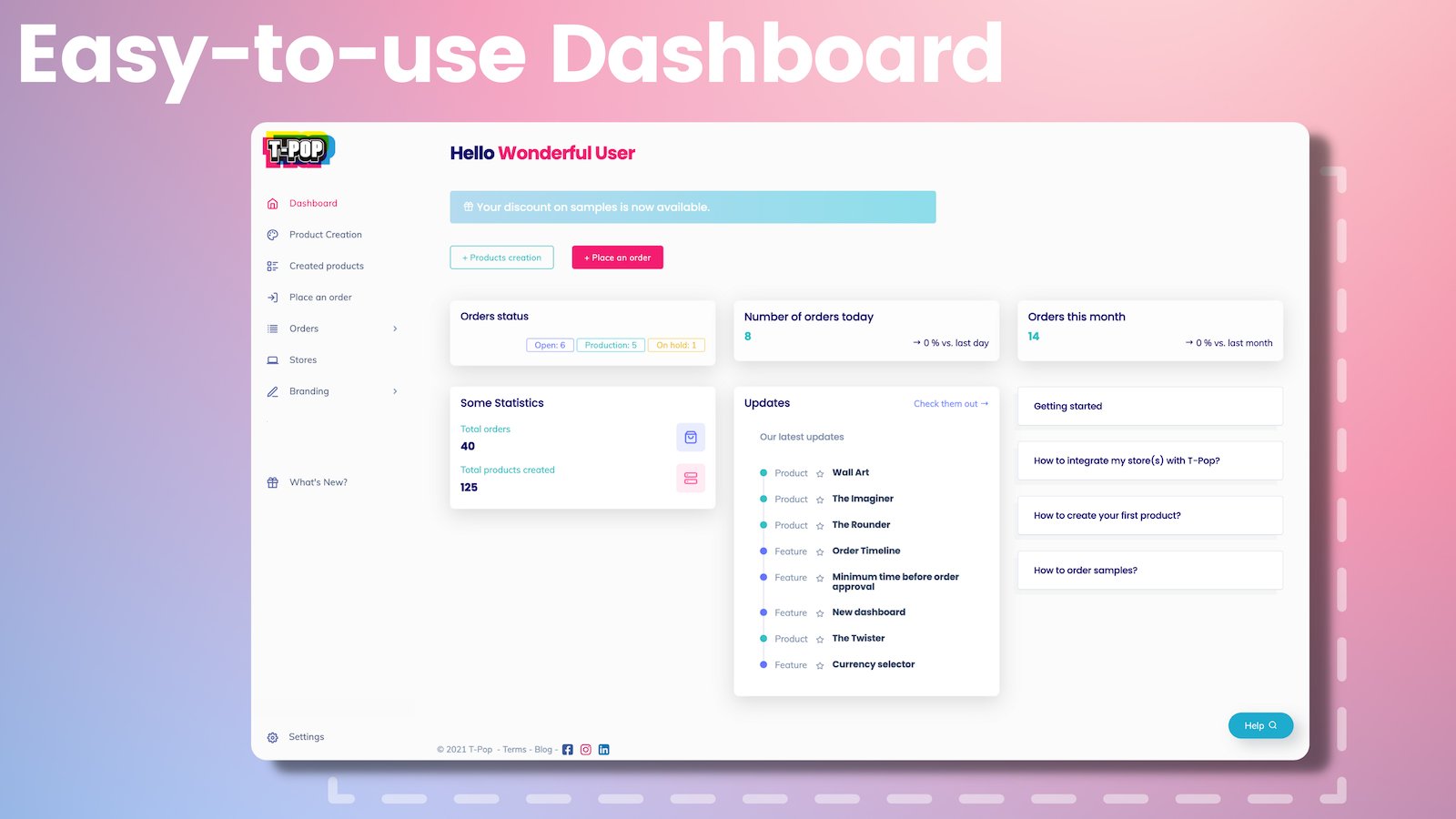 Discover TPOP, your 100% sustainable Print on Demand solution. Thanks to the platform's easy-to-use interface, create your own brand within minutes and enjoy the market's most extensive selection of organic products...Go further into associating your brand with green values thanks to plastic-free packages. Make your clientele the happiest thanks to high-quality prints, quick shipping and our efficient customer support... Your brand deserves the best reputation: TPOP helps you get it.
NovaTomato aims to leverage technology to disrupt the traditional fashion industry. We provide access to leading retail brands' suppliers to help creators build fashion brands with premium sustainable products without inventory investments and supply chain hassles.
Connect your Shopify store to Gooten and start selling quality, custom print-on-demand products in minutes. With our catalogue of 150+ products, globally distributed fulfillment network, and tailored account services, you can seamlessly expand to new markets and scale your order volumes. Test new products and designs risk-free and without inventory because we produce and ship only what you sell. Gain more 5-star customer reviews with our 99% quality standard and 98% on-time shipping rates.
POPCUSTOMS is a custom products & solution provider; we provide a variety of hot-selling products that will bring high profits to your store. We specialize in print-on-demand footwear, AOP apparel, home decoration, pet products... custom embroidery, jewelry and more! We also offer custom branding options and a personalization feature which allows your customers to personalize products with text & photo uploads! Whatever you need, we can make your ecommerce business stand out from the crowd!
With CustomCat, you can seamlessly create and sell unique products from images you upload and publish to your store. CustomCat's quick and reliable print-on-demand fulfillment eliminates the need for physical inventory, so you can focus on other aspects of your business. Outfit your brand with custom made-to-order merchandise to monetize your audience or create unique apparel and one-of-a-kind personalized gifts - now including activewear and DIGISOFT printing technology!
Gelato is here to make global creators turn their dreams into reality. To help unlock their potential. To connect people and ideas everywhere and turn them into real products that can be sold anywhere. Together we bring creativity to life. And into business.
Sell custom merchandise worldwide and scale your business at speed with our print-on-demand app, designed to simplify your supply chain and maximize your profits. Perfect for everyone from artists and photographers to bands and major brands, it provides you with the tools to print any digital image onto any physical product and dropship it anywhere in the world. Supported by a global fulfilment network, Prodigi is integrated with 50+ print facilities in 10+ countries.
teelaunch's mission is to help Shopify store owners launch and grow their ecommerce shops. Shopify is a fantastic platform providing almost everything you need to start your new business. The only missing piece is the actual products to sell. That's where teelaunch comes in. We take all the hassle out of creating products for your new shop. Everything we sell is printed on demand, so the only thing you need to worry about is making the products. We'll take care of the rest.
Est. 2002 with 20 Years Experience, we are Sustainable, Ethical & we source locally (Low Carbon footprint). Create Easily & Sell 470+ Luxury Products handmade to order via your Online Boutique. We all-over print with Eco-Friendly Technology. We fulfil orders fast (no subcontracting!). We Quality Control 100% of orders, offer Global Express Delivery, handle stock, and returns & offer 24/7 support. No min. Order quantity. Set Prices in Local Currency. Sell Globally. Quality Fashion vs Fast Fashion.
Fuel technology enables us to offer the lowest prices with quick and reliable products from our network of printing facilities across the United States. Our easy-to-use product builder allows you to spend less time designing and creating your products and focus more on maximizing your profits.
Yoycol is an easy-to-use tool that can help dropshippers design their products simply and efficiently. It is straightforward to start a print-on-demand dropshipping business with us. As a brand, our mission is to be constantly innovative to allow people to express themselves in every market and make design easy for everyone. We are dedicated to helping every merchant succeed. Choose from high-quality products, and create and sell your creations. No need to worry about production,...
AOP+ is a print-on-demand company that integrates with Shopify allowing your customer orders to be sent to us for printing and fulfilment. Print-on-demand will enable you to only pay for what you sell, eliminating the risk of buying a large inventory. We don't have any minimum requirements, either! We're one of the only print-on-demand services that don't outsource printing; unlike others that outsource their printing, we print everything in-house.
Outsource all production from when you receive an order to delivery with print-on-demand dropshipping! We print and ship to your customer under your brand. With our user-friendly mockup generator, you can design 150+ customizable products, including apparel, home decor, and wall art, with no order minimums. Don't have designs? Access thousands of designs in our Design Library. Automate your store's production with our integrations, store synchronization and product configuration.
Connect your Shopify store to our sustainable print-on-demand fulfilment, and unlock quality, organic products that are great for your customers, the planet, and your business. From custom-printed t-shirts and tote bags to jumpers and jigsaw puzzles, every product is designed to be returned and remade into new products when worn out as part of the circular economy. We sort printing, packing, and shipping, and there's no setup cost, so there is no hassle. You earn profit with every sale.
Printy6 aim to provide better print-on-demand services, custom products, and better mockup generation to start up your own custom branding! You create, we fulfill, and always be passionate about print-on-demand business and markets! No inventory is needed, and we provide a world-free shipping service; you can sell your product at no cost. Start Selling Custom Printed products In Minutes! Make Big Profits With The Hottest Products On The Market!