Introduction
The digital world has made it easier for small business owners to create and manage online stores. Shopify is one of the leading e-commerce platforms that makes it easy for merchants to design and run an online store. To make the most of it, Shopify merchants need to be able to manage their sales and customers. That's where the Sales app for Shopify comes in.
The Sales app for Shopify is an all-in-one platform that allows merchants to manage sales, inventory, customers, and orders. It gives merchants the tools they need to manage every aspect of their business. The app also allows merchants to keep track of their sales and customers in real-time, so they can make adjustments as needed.
The Sales app for Shopify is an intuitive and user-friendly platform that makes it easy for merchants to manage their businesses. It provides merchants with comprehensive sales analytics to make informed decisions about their business. The app also offers powerful features that allow merchants to create custom reports and gain insights into their customers.
The Sales app for Shopify also allows merchants to set up loyalty programs to reward their customers for their loyalty. This helps merchants build better customer relationships and encourages repeat business. The app also allows merchants to accept payments from different gateways, so they can easily accept payments from customers worldwide.
Lastly, the Sales app for Shopify makes it easy for merchants to manage their inventory. The app allows merchants to keep track of their inventory level, so they can make sure they have the right products in stock. This helps merchants to avoid selling out of products and ensures that their customers can always find what they need.
Using the Sales app for Shopify can help merchants to maximize their sales and profits. It provides merchants with the tools they need to manage their business, keep track of sales and customers in real-time, and create loyalty programs that reward customers for their loyalty. Ultimately, Shopify's Sales app helps merchants create a successful online store.
Inventory Reports: Inventory Management Reports with a detailed inventory history and current stock on hand to help you optimize Inventory level and Inventory Value.Sales Reports: Do sales analysis with sales reports from Sales by product, sales by location, sales by collection, Sales reports vendor, and sales by channel.Data Export: Get data in CSV for Orders, customers, Inventory quantity, products, and collection. Custom reports: Create custom reports and save them in your favourite reports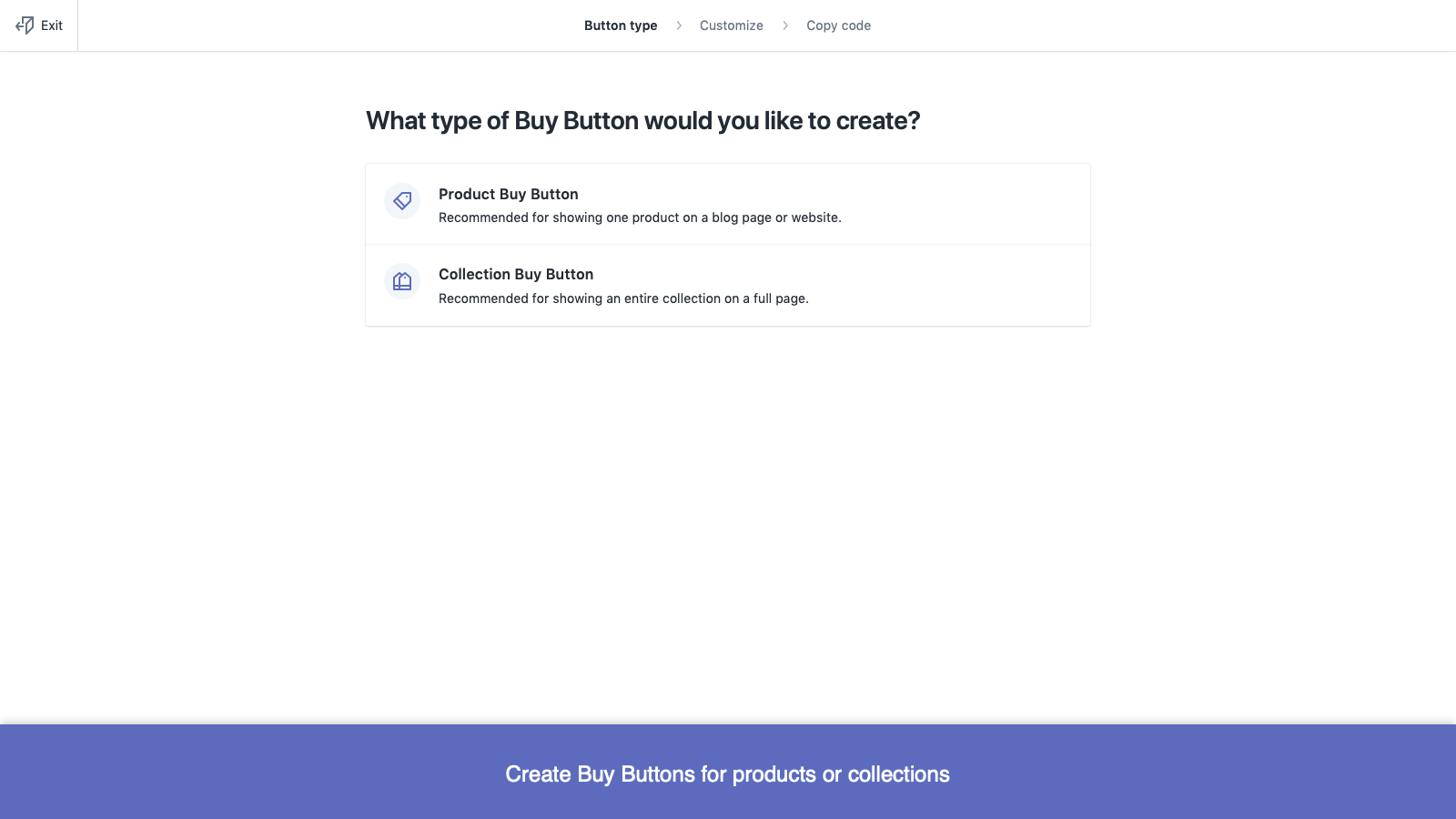 Create a Buy Button for any product or collection and add it to a website or blog. Use the Buy Button editor to match the style and colours of your brand, then copy and paste the HTML code to your platform of choice. You can create quick checkout links that send shoppers directly to your checkout page. Choose a single product and variant, then copy your link to any email, direct message, or social media post.
Blyp helps you make smarter, better, and faster business decisions by quickly alerting you to what's happening in every aspect of your business. By monitoring your customer, marketing, product, and store data 24/7 – Blyp reveals hidden opportunities and tells you what changes you need to make to drive more sales, increase profit and reduce costs. Stores using Blyp see an increase of 27% in sales by increasing LTV, reducing CAC, preventing coupon abuse, revenue leakage, and more.
See the browser, session length, location, and timestamp for each session alongside the session recording. Gains insight into customer behaviour so you can analyze and focus on what's important or eliminate elements that are not working. Create simple surveys to learn directly from your customers. Ask short questions that integrate seamlessly into the checkout page. Open a direct line of communication that allows you to spot pain points in your store so you can drive up performance.
Fast and responsive customer care. Automated install for popular Shopify themes (and free help to install for other themes). Works on the product, collection and quick views. Track products, customers and their activities. Use the wishlist as a guest user (no login required). GDPR compliant. Get Email reminders when a wishlist product has a low stock or a price drop. Support out of the box for the popular currency apps. REST API & JavaScript API. Facebook pixel.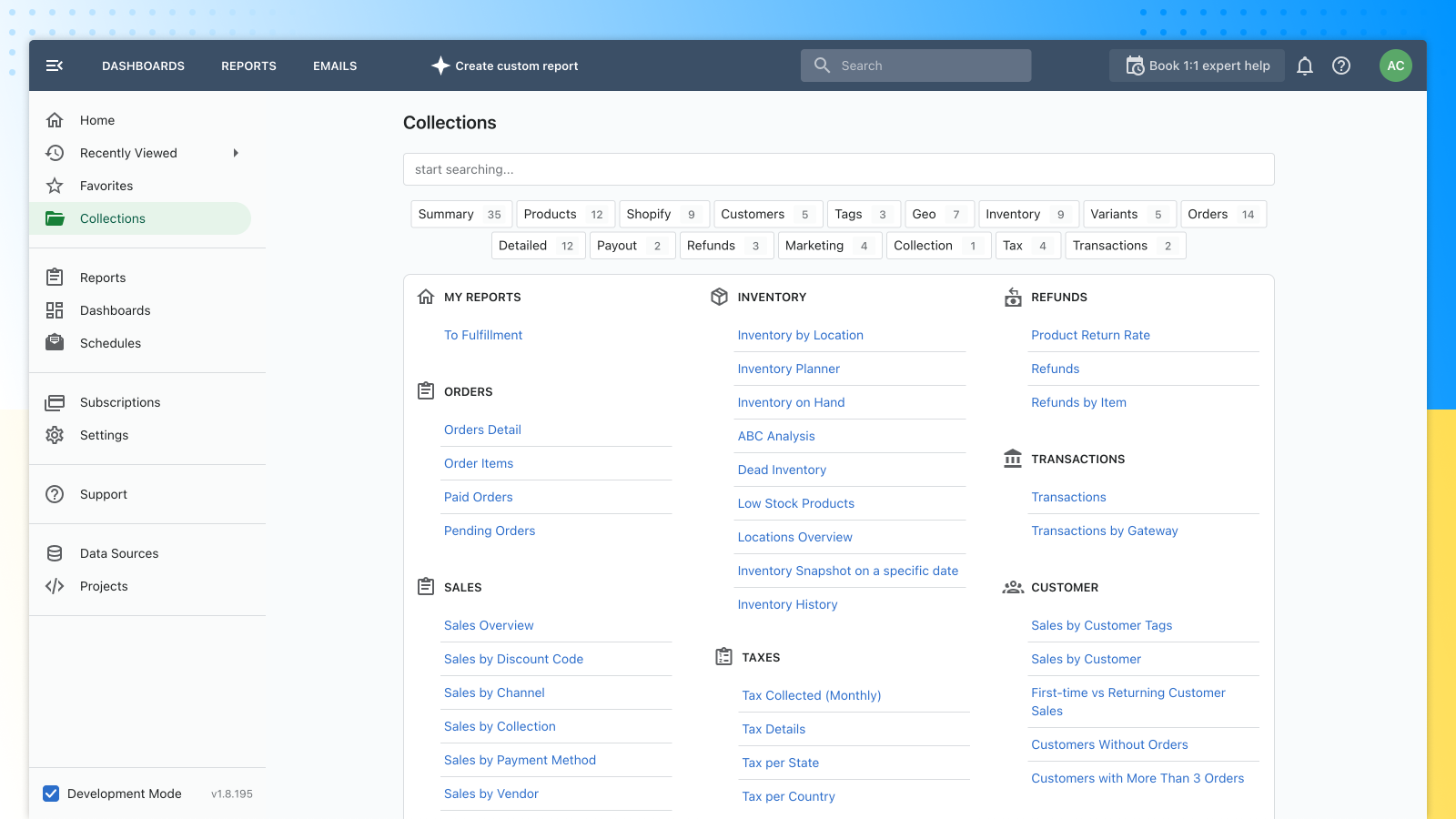 Advanced Reports is a robust solution for your online store or point-of-sale analytics. It allows you to build reports and visualize data using different data available in your store. The Application has an easy-to-use and intuitive interface that enables efficient management of all the reports using several common user-friendly features like drag & drop, filtering and sorting.
Analyze your sales, payments, inventory, customers, payouts and more. There are over 100 pre-built reports. You can also create custom reports or let us do them for you. Slice and dice your data with custom fields, metrics and formulas. Once you have the perfect report, you can automatically export it or have it emailed to your team. Other features include POS support, Google Sheets integration, multi-store reporting and multi-currency.
With Report Pundit, you'll have a flexible reporting system to access all Shopify data and create custom reports for your unique needs. Includes 80+ pre-made reports, with live chat here to assist! We also help build cohort tables, charts, and dashboards. Available report categories include Sales Reports, Products, Inventory, Taxes, Orders, Payouts, Transactions, Fulfillment, Cart Attributes, POS, Customers, Third-Party applications, and more. You can export the reports in Excel, CSV, or PDF.
BeProfit makes it easy for you to accurately track your actual profit in real-time, with an intuitive data analytics dashboard and custom data reports. In one place, you can analyze your order metrics, shipping, inventory, marketing costs, attribution, and profits using automated or custom data reports. BeProfit integrates with your store platform, marketing channels, payment processor, and shipping accounts to ensure that your data dashboards, reports, and analytics are as accurate as possible.
Looking to improve your store's SEO? You've landed in the right place! Our system will optimize your images, improve your site speed, audit, and rank your site for business, marketing, technical and eCommerce purposes. The system will guide you through actionable items per segment so that you can improve your store's performance today. A complete SEO site audit will give you a deeper understanding of why your site is not generating the traffic you think it should and how to improve it.
Rapid Search will help you boost the conversion of your Shopify store through an enterprise-level search engine. Our AI-powered search bar, product and category filters, zero-character suggestions, and many other smart features will instantly increase your performance and improve the customer journey in your store. Our real-time search statistics provide you with useful data that you can use for decision-making and marketing campaigns. We offer a 14-day FREE trial and a unique ROI guarantee!
SuperCEO is your personal data scientist that never sleeps. Get accurate store sales insights to track your store's growth from the total number of sales to the average order value on your mobile & email every day. It also helps you learn your daily business metrics instead of making decisions from your gut feeling. - Real-time report on Mobile AppWe deliver easy-to-consume daily store sales metrics and dashboards at your fingertips.- Curated sales reports via email every day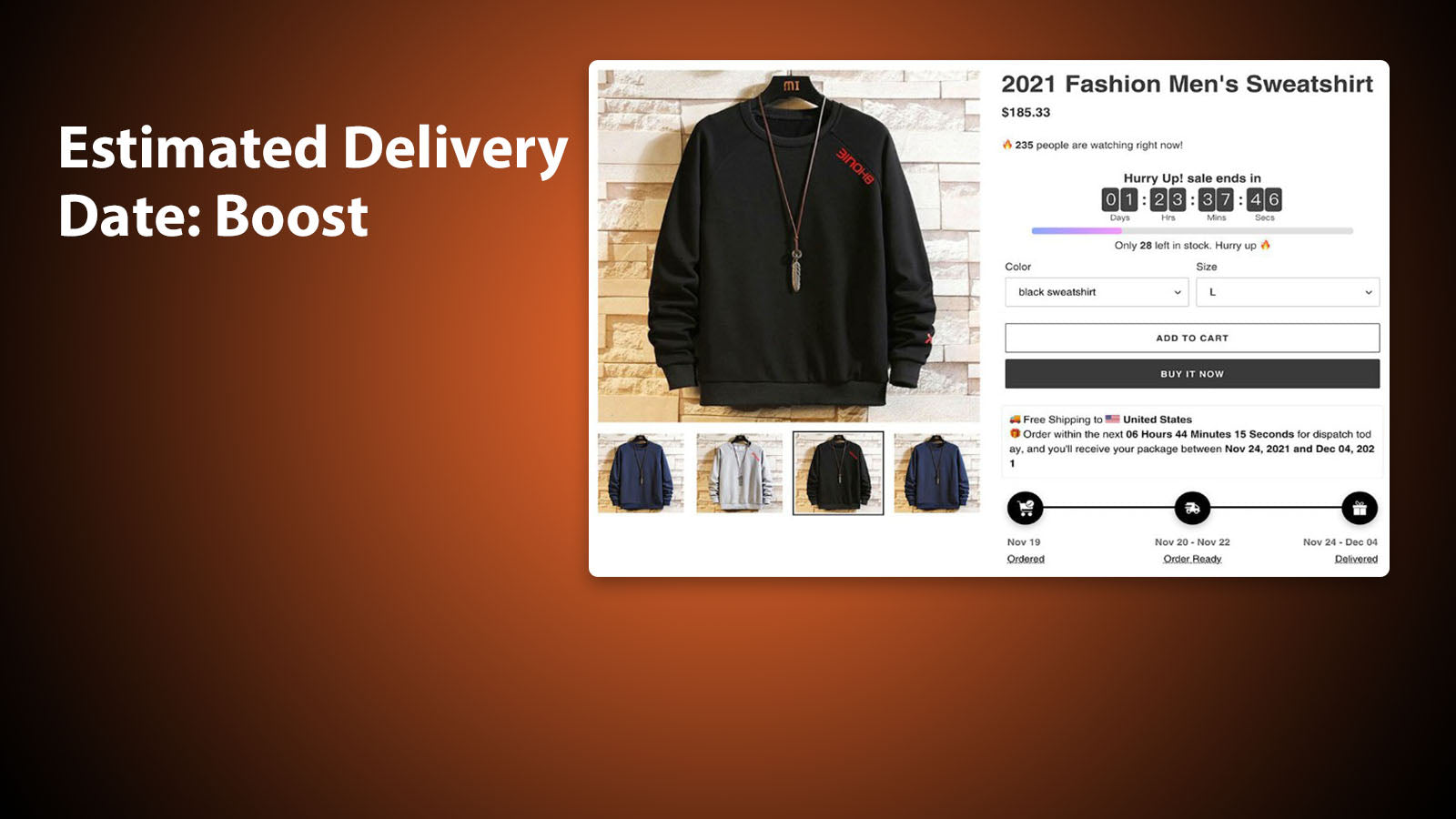 "Estimated Delivery Date: Boost" is a multi-functional application that can provide more services to increase your sales. Currently supports the estimated delivery date, stock countdown timer, and visitors counter functions.
Our Facebook Pixels Conversions API integration resolves tracking issues due to iOS 14.5+. Add unlimited backup pixels, collection pixels, and unlimited Conversions API tracking to your store. Send server-side events with browser events. Avoid event tracking limitations due to iOS 14.5+, ad blockers, and connectivity issues. We instruct Facebook to throw away duplicate events. Events contain all necessary data for retargeting, optimization, and attribution to allow for maximum profit.
# The Shopify analyst that never sleeps – we help you make thoughtful and intentional decisions faster. Receive clear and actionable daily reporting directly in Slack. We build our report with data pulled straight from Shopify – no worrying about analytics setup or data accuracy. The metrics are calculated based on your store's default timezone and currency.- Current metrics include Revenue, Orders, Avg. Order Value (AOV) and Refund. More will come in the near future.
With TiXel you can get smart insights about your TikTok Ads by adding multiple TikTok pixels that accurately track E-Commerce events as they occur in the store: Product Details Page View, Add to Cart, Initiate Checkout and Complete Payment.TiXel allows you to add unlimited pixels to your store and apply them for specific products or all of the store's products. Applying multiple pixels in your store allows you to create and target custom audiences and improve sales & conversions.
TrueProfit is a profit calculator app that lives up to its name - showing you your store's true profit in real time and on autopilot. Stop hopping around manually editing error-prone spreadsheets since TrueProfit got all your store's order metrics gathered, calculated & analyzed in one place. Discover insights, and make more data-driven decisions by knowing all your store's analytics, from profits, ad spends, shipping costs, and transaction fees to LTV and CAC. Be profitable and data-driven with us.
Reaching the revenue goal, building trust, creating urgency to capture the value and providing a great promotion popup can be easier than you think with AVADA Boosts Sales. Here are some significant features for your stores: Sales popup, Countdown timer, Trust badges, Livechat widget, Inactive Tab, Sticky Add-to-cart, Content Protection, Hide Dynamic Checkout Button, Multiple Facebook pixels, etc. You can make your store look more professional with numerous sale kits, promo bars and, product lables & motivator
Introducing Report Toaster, created by Cloudlab. The most powerful reporting and analytics app available for Shopify merchants. Access real-time data from your store to create, schedule and export custom reports across your shops. Customize by adding columns, using powerful filters, and multi-column sorting. Group and aggregate to get totals, counts and averages. Use calculated fields to track commissions, set up aging buckets, or get data from tags or meta fields.
Analyzify makes data collection easier for your store. With our Google Tag Manager integration, you can quickly connect your store with Google Analytics 4, Google Ads (conversion tracking and remarketing pixels), and many other providers. Analyzify comes with a Done-For-You setup option (at no extra cost) in which our experts complete your setup along with an initial audit and post-setup validation. All Analyzify assets are openly added to your store - no 3rd party scripts are involved.
WhatsApp Sales Channel App allows merchants to send product catalogues at scale to customers on WhatsApp as part of campaigns & auto-replies. This helps them recover abandoned carts, boost customer engagement, and increase store revenue. The app enables setting up the products and catalogues on WhatsApp within a few clicks! All merchants have to do is go through the guided steps, and the app automatically pulls in the products.
A full-fledged marketing automation platform that helps e-commerce unify and segment their user data to create a personalized ads experience. Track and stay connected with your customers across the different marketing channels; Facebook, Instagram, Google, Snapchat, and TikTok through the advanced targeting intelligence of Convertedin to maximize your return on ads spent ROAS and put your e-commerce sales on autopilot mode.
The App has 30+ tools to promote your sales from the landing page and product page to the checkout page, displays consistent sales-boosting messages throughout your customers' shopping journey, and increases sales. It includes a countdown timer, stock countdown, shipping message, trust & payment badges, image label & stickers, get-it-by timer, BOGO, and animations on the home, collection, product, cart, and checkout pages. You can choose the best tools to optimize the conversion funnel.
Boost sales by providing your shoppers with social proof of recent sales. Our innovative sales popup notifications and add-to-cart sales popup notifications leverage FOMO to generate more sales and help you boost your conversion rates. The sales popup design is fully customizable to match your store design, colours, and fonts. Our 4 awesome templates can be applied with one simple button click. Easily design your sales popup to look and feel like your brand.
Conclusion
Shopify merchants have many options for optimizing their stores and increasing their sales. One of the best solutions available is the Sales app for Shopify. This app provides powerful features that can help merchants boost conversions and increase sales.

First, Shopify's Sales app makes reaching potential customers easier. It allows merchants to create targeted campaigns that reach the right audience and increase conversions. Merchants can also use the app to create product recommendations and discounts to entice customers to purchase. This is an effective way to increase sales and provide customers with more value.
Second, the Sales app for Shopify helps merchants manage their stores more efficiently. It provides detailed analytics and reporting, so merchants can track sales and customer activity. This makes it easier to track and analyze performance, identify trends, and make informed decisions.
Third, the app also provides merchants with an easy way to optimize their stores for better performance. Merchants can use the app to test different layouts, features, and images to find the most effective design for their store. This helps merchants create an effective experience for their customers and increase sales.\n\nFinally, the Sales app for Shopify is user-friendly and easy to use. It has a simple, intuitive interface that makes it easy for merchants to access and use the app. This makes it easier for merchants to get started quickly and start optimizing their stores right away.
Overall, the Sales app for Shopify provides merchants with powerful features to increase their sales and optimize their stores. It makes reaching customers easier, managing their store more efficiently, and optimizing their store for better performance. For these reasons, Shopify merchants should consider using the Sales app for their store.
A Shopify merchant should combine a Sales app with a product description generator app for his store to maximize sales and customer satisfaction. With the Sales app, the merchant can view detailed sales data in real-time, enabling him to make informed decisions on how to grow his store and increase revenue. With the product description generator app, the merchant can create unique, SEO-friendly product descriptions that will attract customers and help them make decisions more quickly. This combination of apps will help the merchant stay ahead of the competition, increase sales, and provide customers with the best shopping experience.
In conclusion, a great idea is to use a Sales App for your Shopify dropshippers and print-on-demand store. It allows you to track, analyze, and optimize your store's performance, giving insights into customer behaviour and trends. It allows you to easily manage customer orders and inventory and create targeted promotions. With the Sales App, you can ensure that your store is always running smoothly and your customers are being taken care of. Ultimately, it will give you the tools necessary to maximize your store's success.
A Shopify merchant should combine the Sales app with an Affiliate marketing app for his store for various reasons. Firstly, it can help increase the visibility of the store, which can result in more sales. Secondly, it can help drive more traffic to the store, further increasing sales. Thirdly, it can help to create an engaged customer base, who can be further incentivized to purchase through the store. Finally, it can help to maximize profits as affiliates can earn a commission for every sale they refer to the store. In short, combining the Sales app with the Affiliate marketing app can help the Shopify merchant maximize sales and profits through increased visibility, traffic, and incentivized customers.