What is Dropshipping?

Dropshipping is an e-commerce business model where product sellers (i.e. dropshippers) do not need to physically handle or store the items they sell. Instead, they partner with a third-party supplier or manufacturer who holds the inventory and fulfills the orders. Dropshipping allows entrepreneurs to create an online store without worrying about the overhead costs associated with traditional brick-and-mortar stores, such as stocking inventory, shipping products, and managing returns.
The dropshipping model appeals to new entrepreneurs because it eliminates the need to purchase or maintain inventory upfront. Instead, dropshippers can focus on marketing their store and building customer relationships. Dropshipping also allows entrepreneurs to test and launch new products quickly and cost-effectively.
Dropshipping can be a great way to start an online business with minimal risk and investment. However, it's important to research potential suppliers before partnering with them. Dropshippers should consider factors such as the quality of the supplier's products and the reliability of their shipping methods. Good communication with suppliers is also essential for managing customer expectations and resolving any issues that may arise.
Dropshipping is an attractive way to enter the e-commerce space, but entrepreneurs should be aware of the risks associated with the model. With research and careful supplier selection, dropshipping can be a great way to create a successful online business.
Shopify is an all-in-one ecommerce platform designed to help businesses of all sizes build, manage, and optimize their online stores. It provides a comprehensive suite of tools and services, including a content management system, payment processing, inventory management, shipping and fulfillment, analytics, marketing, and customer service. Shopify is easy to use, allowing store owners to quickly set up an online store and sell products or services. It supports a variety of payment methods and features an intuitive interface that makes it easy for merchants to manage their stores. Shopify also offers a wide range of add-ons and integrations to further extend its capabilities, enabling businesses to create a unique and powerful online presence.
Shopify apps are incredibly useful for merchants because they can help them quickly and easily customize their stores to meet their specific needs. Shopify apps can provide many features and capabilities, from payment processing to marketing automation, inventory management, customer service, and more. For example, an app could help merchants to set up a loyalty program, create a custom checkout page, or quickly and easily add new products to their store.
Shopify apps are also great for merchants because they are easy to install and use. With a few clicks, they can add powerful features to their store, such as automated product recommendations, customer reviews, and more. This makes it much easier for merchants to provide a great shopping experience for their customers.
Shopify apps can also help merchants to save time and money. Since they are already integrated with Shopify, merchants don't need to hire developers or spend time and money on custom coding. This allows them to focus on other aspects of their business, such as marketing or customer service.
In addition, Shopify apps can help merchants to increase their sales. By using apps such as email marketing,social media management, and analytics, merchants can better understand their customers and create targeted campaigns that are more likely to convert.
Dropshipping apps allow merchants to easily source and list products, process orders and manage suppliers. The apps also have features to help merchants optimize their stores for search engine optimization, manage inventory, and analyze customer data.
There are several ways that merchants can use dropshipping apps to generate passive income.
First, merchants can use the apps to build a steady stream of recurring revenue by selling products on a subscription basis. The apps allow merchants to easily set up subscription plans and manage customer billing. This can be a great way to generate consistent and reliable income.
Second, merchants can use the apps to capitalize on trends by quickly and easily add new products to their stores. Dropshipping apps make it easy to source, list and manage new products. This allows merchants to quickly capitalize on trends and stay ahead of their competition.
Third, merchants can use the apps to optimize their stores for search engine optimization. Dropshipping apps allow merchants to optimize their stores for SEO by creating product descriptions, optimizing titles, and using appropriate keywords. This can help merchants generate more organic traffic and increase sales.
Finally, merchants can use the apps to analyze customer data. Dropshipping apps can provide insights into customer behaviour and purchasing patterns that can be used to optimize store operations and increase sales.
Shopify Dropshipping Apps

Dropshipman, a professional dropshipping platform, provides a one-stop drop shipping service. At Dropshipman, you can find many high-quality and low-cost goods sources. We can source for you and support the bulk import of goods from AliExpress through an extension. For order fulfillment, you can place your orders in bulk, and we will fulfill the rest. We also work with 40+ logistics providers, such as 4PX, Yunexpress, etc. and support shipping to 100+ countries.
Zendrop was created for Dropshippers by Dropshippers. We were frustrated with relying on suppliers from AliExpress to run our business. Communication is slow or non-existent, quality is horrible and shipping times? Well…. you guessed it. The worst. Luckily, Zendrop solves the ongoing problems you might find with other dropshipping suppliers! Our app makes the process easy and streamlined.
DSers, AliExpress Dropshipping Solution, the new standard to process hundreds of orders at once, faster than ever before and find new products & suppliers to sell always more, with better profits! With DSers, you can find cheaper suppliers, import products from various sources, find better and more reliable suppliers, automate some time-consuming tasks and more!
Find fast shipping and winning products from suppliers in the US, Europe, Canada, Asia, Australia, Brazil, and more, and add them to your Shopify store in a few clicks! Search products from any website using reverse image search. Enjoy automated AliExpress dropshipping with seamless product import and order fulfillment via API through Spocket's official partnership with AliExpress and Oberlo dropshipping app alternative.
With Trendsi, you can easily find and add products to your store to sell without buying inventory. We source quality US brands and trusted overseas products with higher margins, pack and ship directly to your customers with your branded invoice, and even handle returns. By simplifying product sourcing, manufacturing, and logistics, Trendsi strives to become the one-stop-shop supply chain solution for your business so that you can focus on what you do best.
Ali Orders helps you save time and effort and make your dropshipping business more efficient to scale bigger than ever before. It offers a solution to help dropshippers find & import AliExpress products, set pricing rules, and fulfill orders automatically with just a few clicks. All you need to do is pick what you want to sell, and Ali Orders will do the rest!
With AutoDS, you enjoy time-saving dropshipping automation 24/7. Don't spend hours finding trending products when you can import hundreds in a click! Automate everything from importing products to order fulfillment and product page edits with over 25 global dropshipping suppliers, including Amazon, Walmart and AliExpress. Save hours daily with an automatic price and stock syncing with your suppliers. Start focusing on what really matters.
Looking to start a new business with no inventory risk & no minimum orders? Or do you wish to expand your existing store? Find winning and niche dropshipping products with fast shipping on Syncee Marketplace. Dropshipping suppliers from the US, CA, EU, UK, AU, Brazil, and worldwide are waiting to seamlessly fulfill your customers' orders. Add products to your store in a few clicks. Let us automate the product uploads, updates, and order sync. Syncee supports you every step of the way.
BestDealer is a leading all-in-one dropshipping solution in the industry. We empower online dropshippers worldwide, especially those from the US, UK, CA, EU, AU, BR etc., to build a successful dropshipping business efficiently. BestDealer provides services including Fast Product Sourcing, Purchasing, Quality-controlling, Custom Branding and Shipping with seamless automation. We incorporate experience, resources and technology into a top-notch dropshipping platform that supports global dropshippers.
1. USAdrop can source products for you in the market. USAdrop will help you work out your margin before you promote your dropshipping item
2. Our platform can fulfill your orders automatically.

3. We update the winning product every day, and you'll get to know the trend with USAdrop
4. We have hundreds of great products in stock in our US warehouse, faster shipping time
5. Import Aliexpress products into the Shopify store with only one click.

KakaClo provides the most professional dropshipping and customization service with its factory and integrated supply chain. We have Everything you need to build a growing business.
Fast, reliable shipping and order tracking means happier customers, more sales and fewer headaches. DropCommerce offers high-quality products from North-American suppliers. Real brands deliver your Orders in 2-7 days. Moreover, DropCommerce guarantees your Order Delivery or a full refund. Our world-class customer support is ready to answer any questions. Take your online business to the next level with reliable, high-quality, and user-friendly drop shipping. Join DropCommerce today!
Are you a Shopify Dropshipper seeking the best tools to help you grow your sales and maximize your revenue? Are you tired of wasting time on Shopify manually copy-pasting details about hundreds of products instead of spending that time on your business flourishment? You should try ShionImporter, the app that enables you to maximize the opportunities offered by Dear-lover, Prettylittlething, Aliexpress, Amazon, Emmacloth and the other huge e-retailers in the world for dropshipping products.
Dropship from fast & verified suppliers located in top-tier countries (USA/UK/EU/CAN etc.). All our suppliers are fully automated. Automated orders. The stock & price are synced 24/7 between you and our suppliers. Tracking numbers are imported to your store automatically. Create an account, connect your store and import products with a click. It's that easy to start selling right away.
Looking to start a printed or embroidered t-shirt business? Or sell wall art or blankets from the comfort of your home? Do it with Printful—we're a print-on-demand dropshipping supplier ready to support you and take care of the boring stuff (you know, like fulfillment). We'll print, package, and ship your products to your customers. It's time for you to take full control of your ideas, time, and finances—start or expand your existing online business with Printful!
EPROLO is made for merchants frustrated with the slow shipping time and unstable supply chain. Here at EPROLO, we offer the QUICK FIX for persistent issues you could have with other dropshipping vendors! Our staff streamlines and simplifies the procedure.
With FashionGo Dropshipping, browse thousands of quality products from curated, US-based vendors. Automatically sync your customers' details to ensure hassle-free order fulfillment. Set up auto-pay to make sure your orders are processed right away.
We can help you source the products you want directly from manufacturers in China at better prices. With SourcinBox, you can import products and images to your store easily. Orders from your store will be synchronized to SourcinBox where you can manage and order them in bulk. We will purchase the products for your orders and check the quality, then pack and ship the orders directly to your end customers with fast shipping methods, so you can focus on other aspects of your dropshipping business.
Always wanted to build & scale your own business but didn't know where to start? We're here to make that happen. Through Roposo Clout, we enable you to own your future & curate what you want to sell. Choose from 1 lakh+ quality products that are in demand at unbeatable prices. Add the products you curate to your Shopify store & watch your business grow!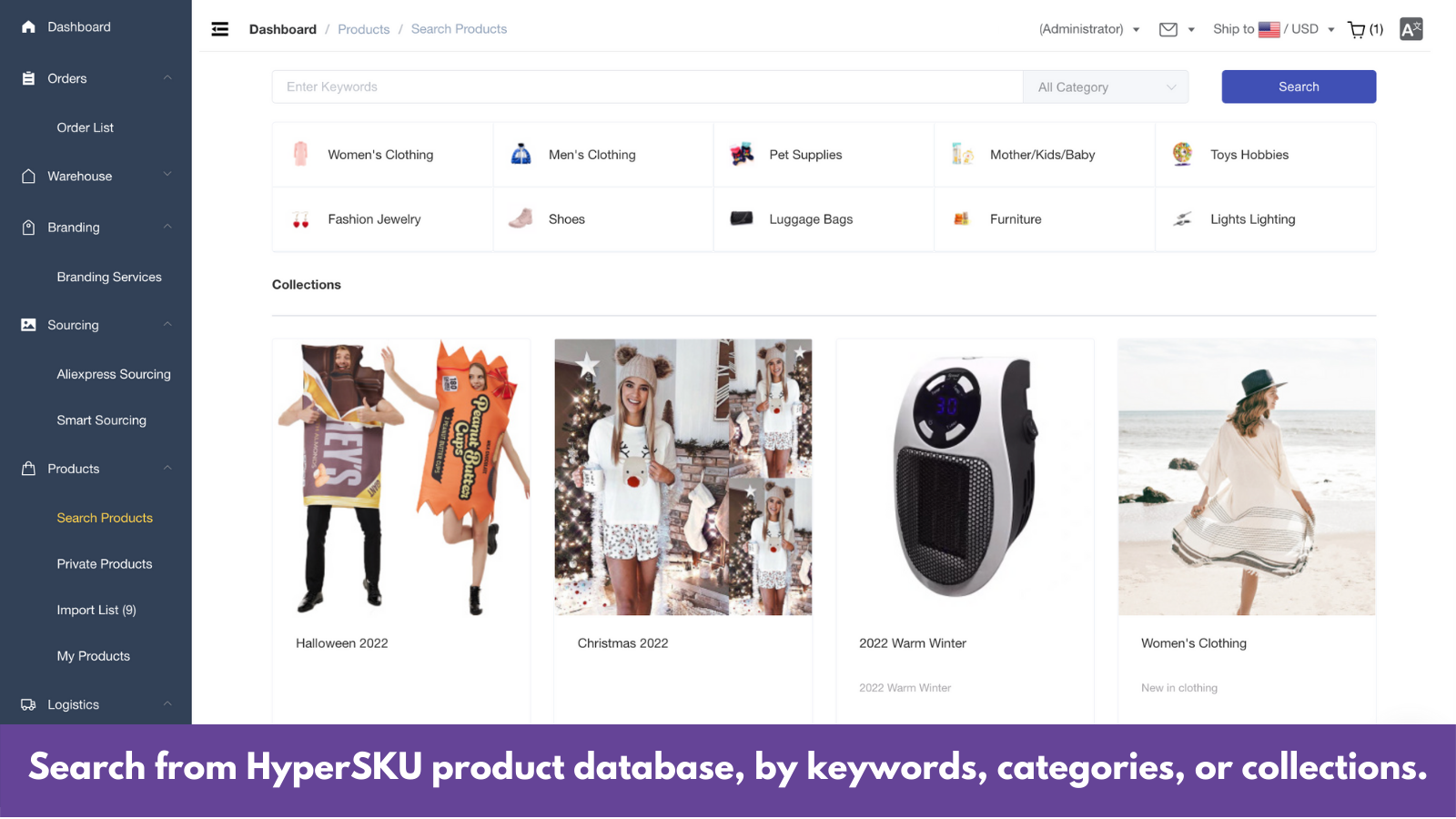 Seamlessly dropship millions of quality products in 7-12 days worldwide delivery. Tired of out-of-stock, slow/unreliable shipping and endless spreadsheet work? Scale your eCommerce business and improve profits to the max with an efficient, reliable & engineered solution at HyperSKU. Your Benefits:
*Increase Order Size: split & bundle product

*Higher Profitability: branding & customized services
*Time-Saving: Import products in one click

*Hassle-Free: enjoyable services from a dedicated agent
It is designed with an intelligent system that helps users to have an almost hands-free management experience in their business. It is unique because most processes take hours and even days for some dropshipping apps to accomplish; we can do it in just a few clicks-process. It is an all-in-one app where all service they need is offered, from sourcing to delivery.
Sup Dropshipping is dedicated to optimizing your margins by getting access to direct factories and wholesale suppliers. We help you lower your purchasing cost. Sup offers professional services to help you build and grow your E-commerce brand. From customizing your products to improving your customers' unboxing experience, we can handle everything. Sup automatically syncs your Shopify orders. You just need to confirm, and everything else will be handled by the Sup team.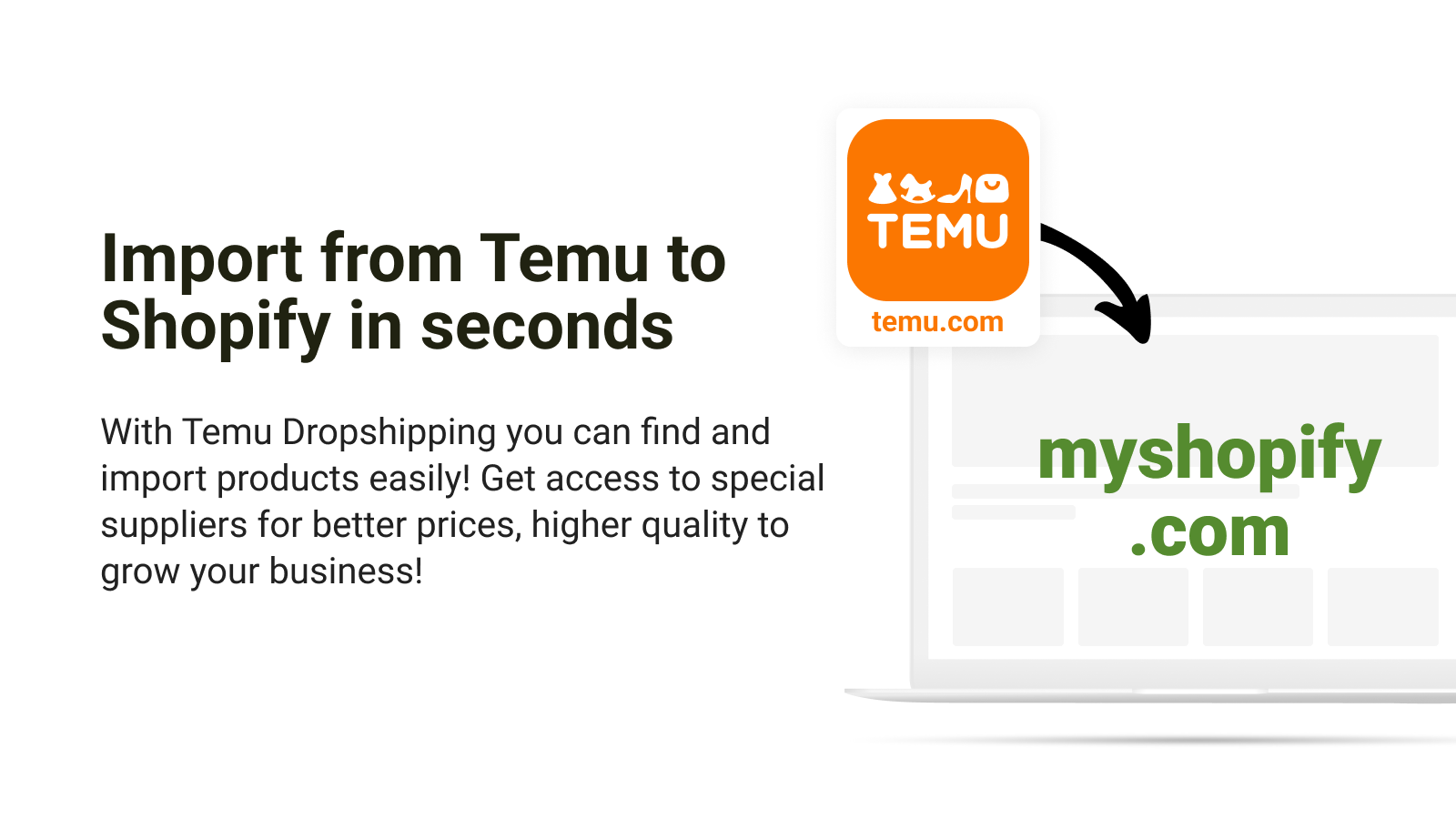 Temu Dropshipping solution, the new standard to import products from Temu in one click, is faster and easier than ever. Find new products & suppliers to sell with lower prices and get better profits!
​